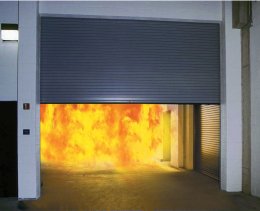 So many wonderful occasions happen just once a year: taxes, your annual physical, buying new tabs for your vehicles. Some of you might procrastinate, waiting until 11:59pm on April 15th. There are some annual events you just can't delay, as not meeting your safety requirements can be costly – either in dollars or even with your workforce.
Each year, one of the many items an industrial or commercial company needs to have examined is their fire doors. Since 2007, it was mandated that fire doors be inspected annually by a certified party. Think this is something you can delay? There are plenty of cases where companies are fined for safety violations, including fire doors not being properly used. In fact, in 2010 OSHA proposed over $137,000 in fines to a company for fire, mechanical, and electrical hazards. OSHA found that "fire extinguishers were not checked and tested; fire doors were not kept in proper working order at all times…" among other violations. Fire safety, including the integrity and reliability of fire doors is taken very seriously by many organizations. Twin City Garage Door takes this just as seriously.
Fire Doors are often overlooked when it comes to inspection and service. This is because they are usually installed to be hidden from public view due to aesthetic reasons. It is not uncommon to be unaware your facility even has this type of door. NFPA80 requires that these doors be tested by a certified technician annually. Twin City Garage Door can do a no charge inspection of your facility and document fire door locations. This will help in planning your building preventative maintenance schedule.
Just as with your taxes, it's advantageous to have a professional complete the paperwork. There are also advantages to have a company like TCGD as your partner for fire door inspections. Not only do we do the inspection, testing, and certification; but we also provide:
A written fire door inspection report and drop test report
A fire door certification tag for each inspected door
Backup reports kept in our facilities in case of emergency or compliance questions
Annual reminders of the inspection needs
Contact the team at TCGD today to learn more about our fire door testing program and let us alleviate one more thing off your annual to-do list.